Description
Okanagan Crush Pad – Haywire Pinot Noir White Label 2015
Producer: Okanagan Crush Pad Winery
Country: Canada
Region: British Columbia
Grapes: Pinot Noir
We are big fans of this wine and the rather radical producers Okanagan Crush Pad. Haywire Pinot Noir is a very light, but rather luscious and intensely fruity red, bursting with flavour. This Pinot Noir is naturally fermented, then left for 11 months in big concrete eggs. No racking or filtering; bottled in its purest state. Colour is Burgundy. On the palate intense cherry, red berries and spice. It is a little pricey for what it is because of Canadian taxes but a lovely wine so if budget is not an issue we do recommend it.
Ideal with steak and meat pasta and pizza.
Suitable for vegetarians and vegans.
Contains minimal added sulphites. Read more.
Most young red wines benefits from decanting. Haywire is ideal after about 45 minutes of aeration.
More from the producer:
Okanagan Crush Pad was founded on a long history of friendship, a mutual respect for land and wines that articulate "place", a love of music and admiration for one-another's accomplishments. When friends come together in this fashion, wine flows naturally and easily.
The journey began in 2005 when David Scholefield convinced Christine Coletta and Steve Lornie to plant a small vineyard in Summerland. David had a vision for the Okanagan, a young wine region that was trying to find its soul. Christine and Steve, who have a well-earned reputation of making projects come to life, began putting his plan in place, first by farming, albeit in a conventional manner, with the idea to craft wines that were as naturally beautiful as the Okanagan. David persuaded Alberto Antonini and Pedro Parra to come to the Okanagan and with their arrival, conventional thinking went out the window and a new plan to push the envelope took center stage. Today, that small vineyard, Switchback, is certified organic. The team has built a state of the art winery, Okanagan Crush Pad, in Summerland, BC and established a thriving custom crush business. Winemaker Matt Dumayne heads the winemaking team, working with Alberto to craft pure wines that articulate the message of the place where these wines are grown. On the farming side, Christine and Steve purchased a 320-acre Summerland site, where Pedro has designed a vineyard that could be created on virgin soil. There, on Garnet Valley Ranch, 40 acres of a potential 60 acres have been planted according to the principles of precision viticulture. The ranch is also home to 8 acres of organic field crops and a herd of sheep, guarded by two lovely Great Pyrenees dogs.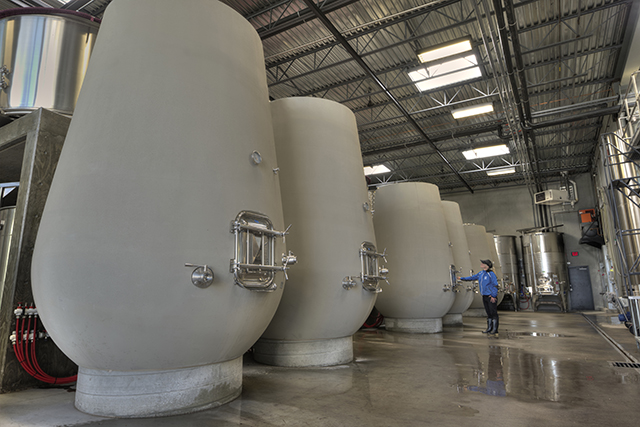 The winery is state-of-the-art and features large concrete tanks, with a guest center built into the heart of the facility offering visitors a rare glance into the art of winemaking. A tasting room and wine shop offer a place to sample and buy wine, while watching the action in the cellar. Here Matt Dumayne and team create wines from organic grapes, using native yeast for fermentation and minimal intervention. The wines reflect the region's unique high mountain/northern desert setting, one that is noted for its intensely hot, short growing season with hallmark cool evenings.
Okanagan Crush Pad is Canada's first purpose-built custom crush facility where several different wine labels are produced along with our own wines Haywire, Narrative and Free Form.
FARMERS
Brad & Dave Wise, Theo Siemens
OWNERS
Brad & Dave Wise
LOCATION
Oliver, Okanagan, British Columbia
VINEYARD
Secrest Mountain Vineyard is a 36-acre (15 ha) vineyard situated on a flat, south-west facing bench in a high mountain setting, 487 meters (1,600 feet) above sea level. It is planted with Chardonnay, Gamay Noir, Gewürztraminer, Pinot Blanc, Pinot Gris and Pinot Noir. Flat alluvial soils are studded with course gravel, sandy loam with limestone layers. The Wise brothers are dedicated farmers, in their second year of transition towards organic certification.
WINEMAKERS
Matt Dumayne, Alberto Antonini
WINEMAKING
This wine was fermented with native yeast and aged in Nico Velo concrete tanks for 11 months before being bottled in its purest state.
WINE PROFILE
An entrancing burgundy colour and intense cherry aromas lead to a palate loaded with
lively ripe red-berry fruits, exotic spice blends, and earthy characters.